*Affiliate disclosure: I may receive commissions if you buy via the links below. As an Amazon Associate, I earn from qualifying purchases.
Looking for an Airbnb in Sedona? We have compiled a list of the cheapest up to 5-star stays in Sedona Arizona!
Many people are leaving the hotel world behind and opting for an Airbnb. But why? For one Airbnbs are definitely a more homey feeling than your standard hotel room. Also if you love people, getting feedback from locals is one of the best travel tips! They will give recommendations that you will never find on tourism sites.
Some Airbnbs rent out just a room or one floor of their home while the owner is still in the house. Others rent just like vacation homes, where you have the whole place to yourself.
Don't forget to swipe my coupon to get a discount on your next Airbnb! 
Cheaper Airbnbs in Sedona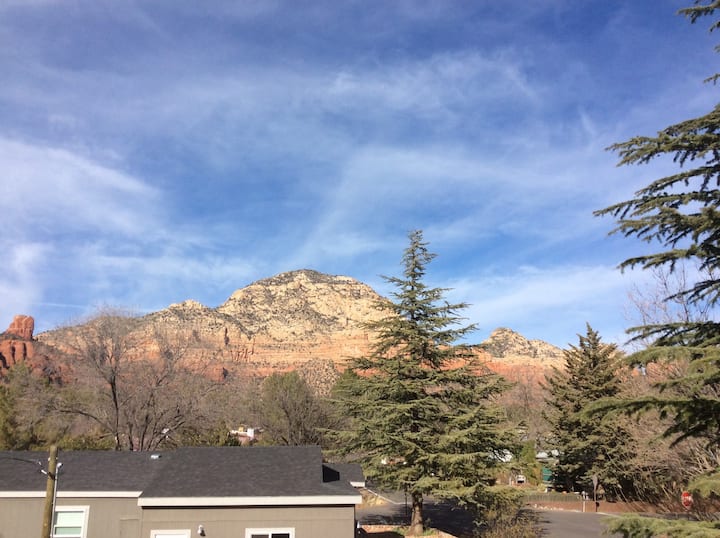 This little private suite is within walking distance to trails, near the Amitabha Stupa and Peace Park, grocery stores, and restaurants. You do have a private entrance and a brand new queen bed to sleep on! This Airbnb sleeps two people with one bedroom and one bathroom. The owner is also a super host, meaning you will be in good hands!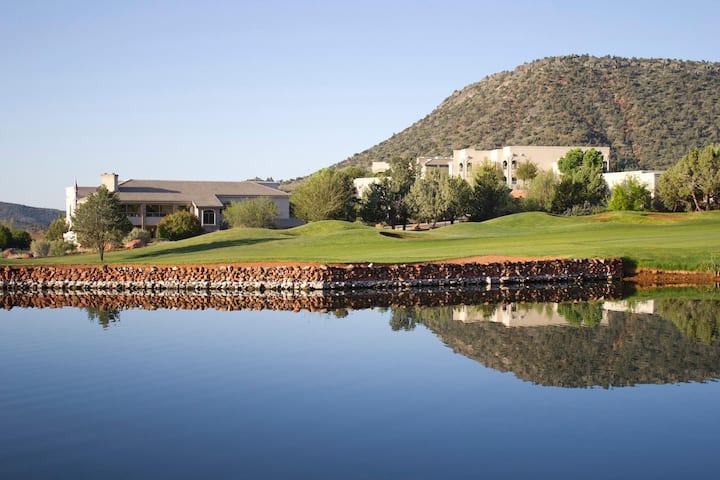 This Airbnb is actually at a resort but comes a little cheaper if you book through Airbnb's website. Nice views, sleeps 4, has a sofa bed and one bathroom.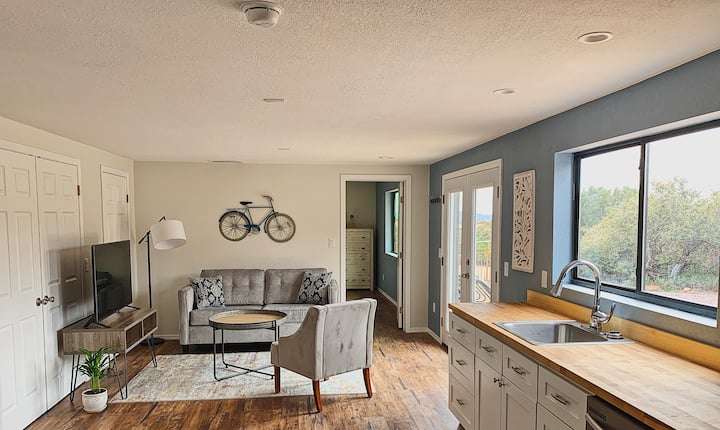 A super cute 2 bed 1 bath guest house with great views and modern updates! Very close to shopping, restaurants, and legendary trails only 5 minutes away! While you have the place to yourself, Heather (superhost) lives upstairs and loves giving out site seeing information!
Anna and Todd (super hosts) have outdone themselves from the southwest decorations to offering up guided tours and photography lessons! The views are absolutely impeccable! They actually live in another house on the property but maybe in the common area at times. This beauty sleeps 3 with one bedroom, 2 beds, and 1 bath!
Moderately Priced Sedona Airbnbs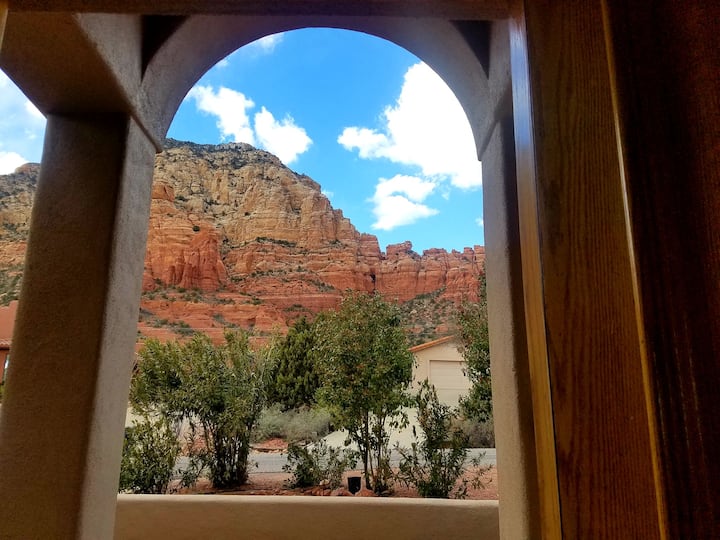 This Airbnb is located in West Sedona at the base of Thunder Mountain. Filled with high ceilings and natural light, don't forget the sunbathing deck off the master suite with a hot tub! Perfect for a weekend getaway for much needed alone time!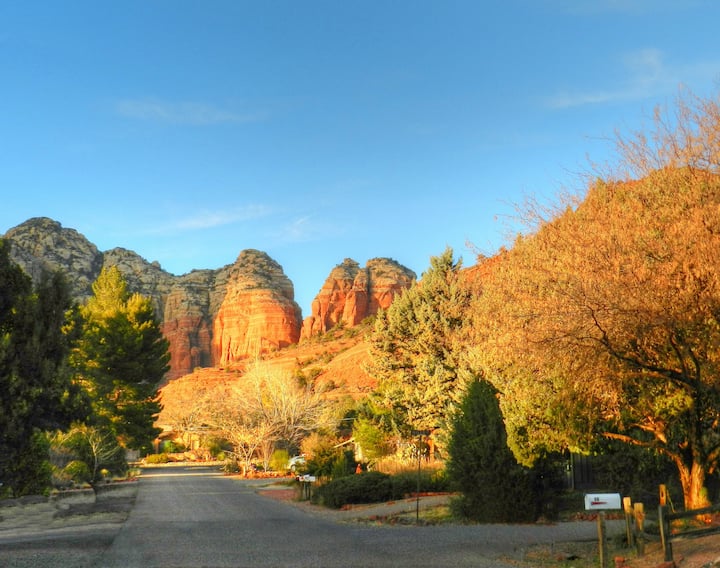 This one bed and one bath is fully updated with a nice outdoor area including a hot tub! Located close to trails, retail, and restaurants! The upstairs is another rental but the ceiling has additional soundproofing. Good news! The backyard area is all yours!
This cabin Airbnb is a little more rustic on the inside, but the views can't be beaten! The owners want to be able to keep the price affordable while you enjoy the million-dollar views! They include tons of details about the property and amenities!
5 Star Airbnbs in Sedona
The home decor in this airbnb are absolutely stunning and luxurious! The views are amazing and it's great for larger parties! With 4 bedrooms and 4 bathrooms, this beautiful home offers tons of space! You will have this home all to yourself!
This is probably one of my favorite airbnbs in Sedona! The outdoor area is relaxing and serene. The views are grouegous along with the indoor decor too! You will be near great hiking trails and have views of Mystic Mountain (aka Elephant Rock), Cathedral Rock and of course the iconic Sedona red rock ridges. There are 4 bedrooms and 3.5 baths which sleeps 8 people. Perfect for family vacations or a weekend couples getaway!
The title says it ALL! The infinity pool is absolutely breathtaking! Not to menion the panoramic views, the modern kitchen, and roomy master suite! Okay, maybe this one is my favorite!!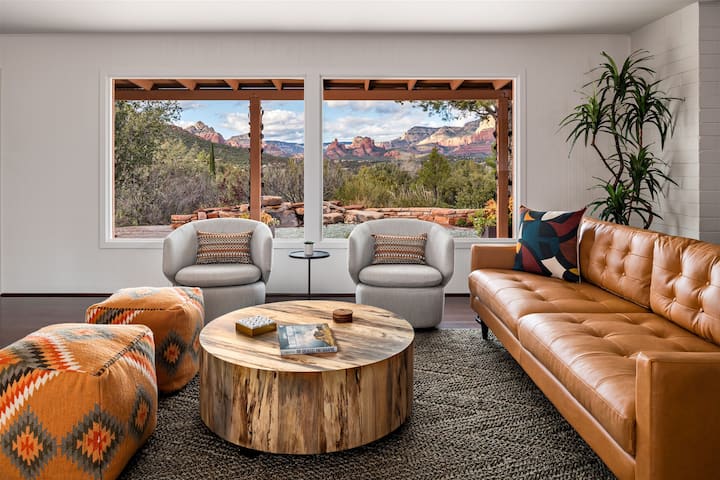 The home furnishings are SO fancy and beautiful! The outdoor area is even better and the Sedona views are to die for! You get the entire 4 bedrooms and 3.5 baths for yourself and/or your family! So you don't have to worry about other tenants being in the same airbnb.
How To Choose an Airbnb?
Be sure to always check the reviews and when in doubt go with a super host!
Contact the owner with any questions you may have and include possible attractions you want to see.
If your dates are flexible you can probably get a cheaper rate!
Want More Airbnb Resources? Check out the Articles Below!
Pin for Later!