*Affiliate disclosure: I may receive commissions if you buy via the links below. As an Amazon Associate, I earn from qualifying purchases.
When planning your next trip to the Longhorn state, be sure to check out these amazing Austin Airbnbs!
Traveling is one of the best ways to mentally unwind. You get to go outside of your normal environment and get to explore the amazing things your destination has to offer. One of the best locations you can visit is Austin Texas. Austin offers the best in food and craft beer. From top chefs, taco joints and amazing food trucks, this will be a stellar location for anyone who enjoys a foodie adventure while they travel. Bangers Sausage House and Beer Garden will combine the best of food and drink.
Another amazing reason to visit this location is the local music. This is the heart and soul of music when it comes to any Texas location. From the pleasant sounds of blues to indie rock, country to jazz and so much more, Austin's musicians really get the night buzzing with the amazing performances they provide. Legendary artists such as Willie Nelson and Janis Joplin all got their start to their rising careers here in Austin.
As well, there are plenty of locations for those who love to explore the outdoors of any vacation spot they visit. This city has a total of 205 parks, 14 nature preserves and over 50 miles of hiking and biking trail opportunities that offer the best in an outdoor experience. One of the best outdoor experiences you can enjoy is the beautiful Lake Travis. This particular lake has a 65 mile stretch of fresh water with almost 20 beaches available. There is so much to do on this lake. Whether you are wanting to enjoy a swim, get some Vitamin D with the relaxing sun or enjoy some of the many boating opportunities, this is the place for anyone looking to enjoy a bit of the lakeside memories of Austin.
Here are some amazing AirBnbs for you to check out while you enjoy the best that Austin has to offer.
Top 10 Airbnbs in Austin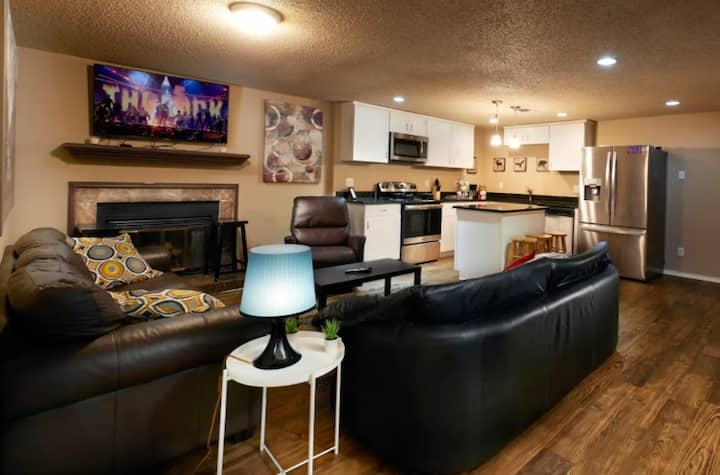 This particular Airbnb has a lot to offer. It is located in the west campus area of the University, with 4 rooms and 2 bathrooms; so keep in mind the total number of roommates is 4 persons including yourself. It is spacious and offers a lot of amenities such as free parking, WiFi, and access to a pool.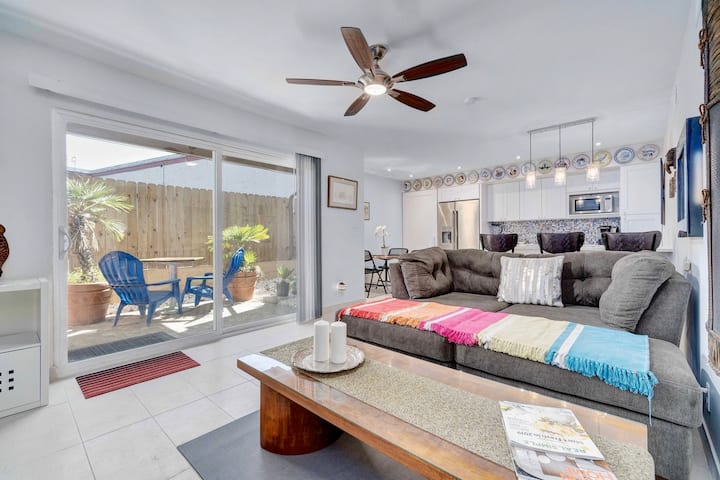 This spacious and beautiful condo is located in North Austin. This location offers direct access highways to AUS airport, the Arboretum, and Houston. You can also enjoy the thriving Burnet Road restaurant scene and West Anderson Lane retail options. You can do laundry at this particular location, and relax on the back patio with total picket fence privacy. 
This small and modern studio condo is just the right size for your upcoming stay. It has exactly what you need: a comfortable king bed, microwave, mini fridge, and a Keurig. It's conveniently located in the upcoming Holly neighborhood of Austin right off of E Cesar Chavez. Only 9 minutes from the Austin Bergstrom airport and within walking distance to East 6th Street, Rainey Street, and Lady Bird Lake. It's surrounded by many of Austin's best restaurants (vegan and traditional), bakeries, breweries, and bars. You can't get a better location than this! Also, the smart TV has free access to Netflix, Hulu, Disney+, and ESPN+ as well as 100s of channels on over-the-air HD.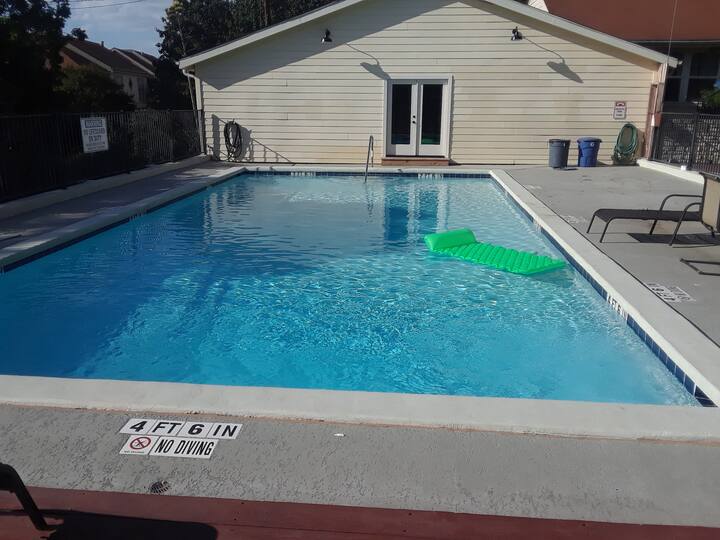 This truly is Old Austin's best and only funky musician's pad. The walls are decorated with vinyls and there is even a guitar hanging up on the wall. One of the great things is that it is only two blocks from both I35 and SOCO (South Congress). It is also two miles from downtown, for easy access to the nightlife. You will also get access to a swimming pool and hiking in The Blunn Creek preserve. Not to mention, your host offers coffee and continental breakfast available. including the museum and music room.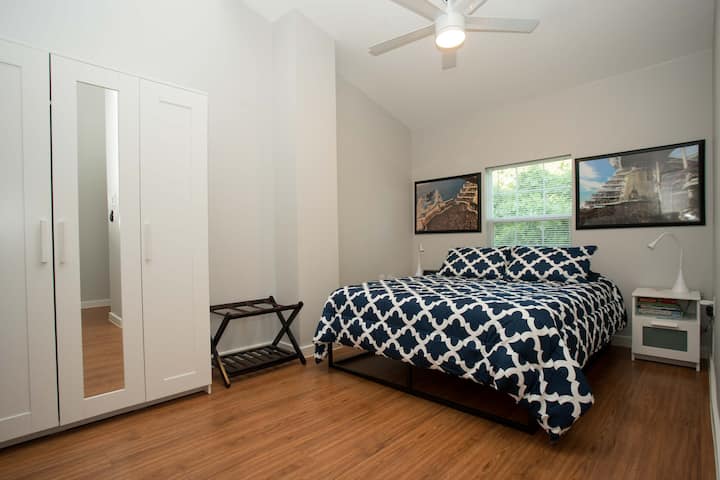 This new, clean and well organized, smart-home automated, modern townhome is located in the heart of East Downtown Austin. It has spacious, tall ceilings, a queen-size bed, a sleeper sofa, and an air mattress. It is in a trendy location with great bars and restaurants. This location also includes easy parking and an extra half bath. For those using your laptop or tablets, this townhome includes high-speed Wifi. If you plan on enjoying a great movie or tv show, there is a Sonos sound system and big screen TV. There are also free bike rentals on-site if you want to explore the city on two wheels. This location is also equipped with a great guidebook with lots of fun recommendations for nightlife, dining, and outdoor activities in Austin.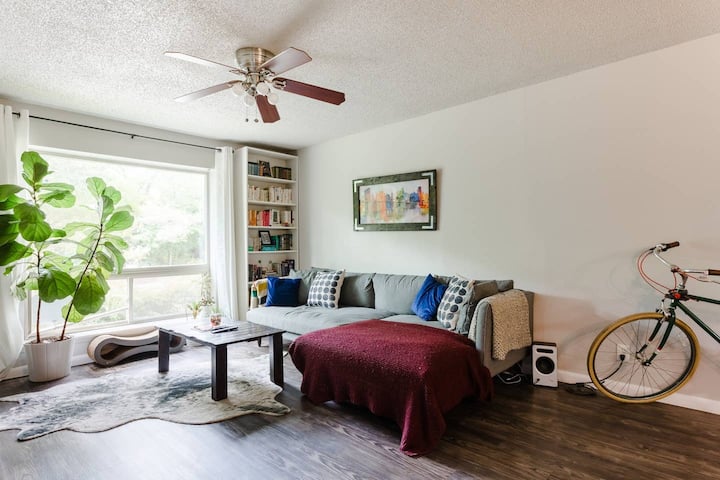 This private room is in a 2 bedroom apartment. It is in walking distance to downtown & Zilker Park, which is festival & fun friendly! You will also be close to Riverside Ave and the SoCo strip. One of the best things about this location is you'll have a personal patio overlooking historic Travis Heights, which is an amazing view. Some of the condo complex amenities include: a pool, BBQ, & 3rd story deck overlooking downtown. This space is perfect for a fun weekend in Austin, an extended stay, or just passing through for work.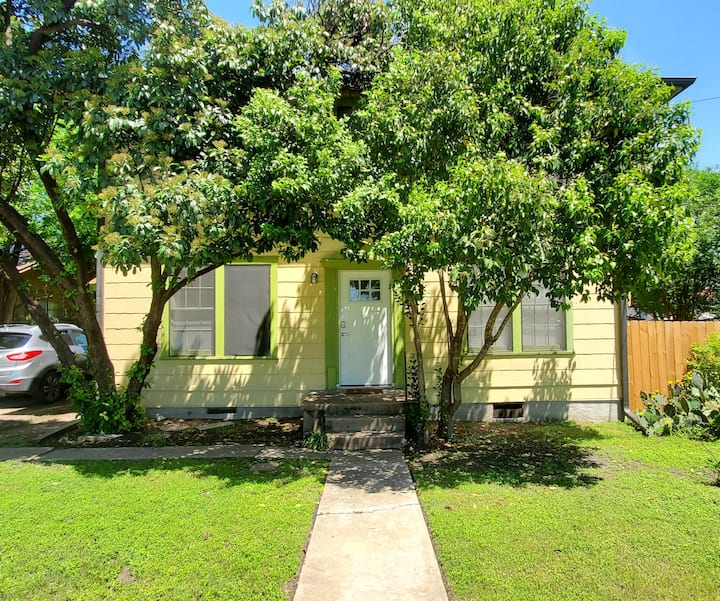 This beautiful historic farmhouse is located in North Loop Austin. It has original hardwood flooring, natural lighting, and a tree-lined setting. This is great for a staycation or as a work-from-home alternative. You also will get a backyard setting with chairs, a table, a hammock, and an amazing view of the landscape. This is the perfect place to enjoy your morning coffee and drink in the surrounding views it has to offer. One great thing about this particular location is it is pet-friendly, so if you are traveling with your favorite fur baby they can enjoy this relaxing location with you.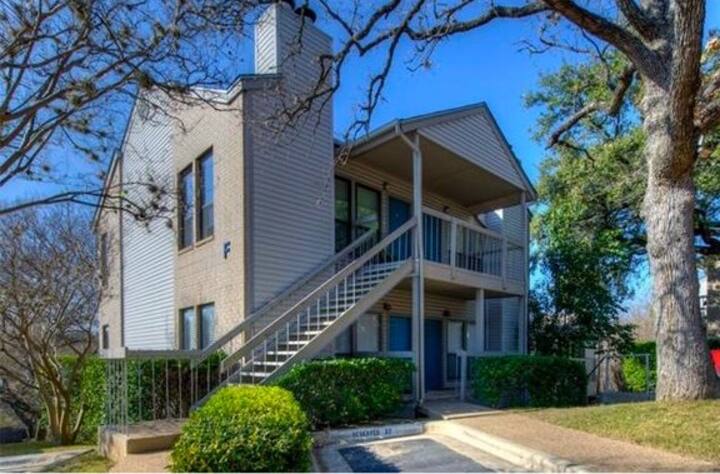 This is a beautifully structured ground-level condo, built on a hillside and remarkably cozy. Its balcony overlooks the treetops and you can even enter the front door without climbing any stairs. The entire property was recently renovated, with all new lights and stainless steel GE appliances, wall mounted TV, and a fresh coat of paint. Enjoy the pool and green spaces that are just half a mile or ten minutes walk from downtown Austin. 
This is a very cute Bohemian 800 sq ft home with a Queen sized bed and a full kitchen that is adorned with art by local artists. Be sure to keep in mind that this location doesn't cater to smokers or pets. You will enjoy the fact that this is a safe and quiet neighborhood, close to the hip NoLo area and very central. Walking distance to coffee shops, & dining. Front yard garden access to get you to your destination faster for those restful nights. You also will have plentiful free street parking and be visited by an outdoor-friendly cat that lives onsite. 
 This Airbnb is cute and comfy! The house is adorned with decorations that will easily make you feel like you're at home. The bedroom should have enough space for 2 guests if you are not traveling alone. Each bedroom is equipped with security codes for extra privacy and allows easy check-in. The bathroom is shared with both guest rooms and it is equipped with soap, shampoo, a hairdryer, toilet paper, and a cosmetic face mirror. The kitchen has plenty of countertop space and guests have their own space in the fridge, cabinets, and dispenser. The laundry room is equipped with a washer, dryer, complimentary soap, iron, and ironing board. You can park in the street or in the driveway. The driveway can hold about 4 cars, however, it has a single lane only so please be mindful of other guests.
With planning being the hardest part of a trip, we hope these Austin Airbnb selections will make it an easy transition for you to enjoy a much-needed vacation for yourself or your traveling partners. 
More Airbnbs You Should Check Out: