*Affiliate disclosure: I may receive commissions if you buy via the links below. As an Amazon Associate, I earn from qualifying purchases.
Gatlinburg, TN is such a quaint and magical town especially when there is snow falling. Here are 22 things to do in Gatlinburg and my real thoughts about each one.
Some of these ideas and attractions will be more likely for a newbie visitor because they are very touristy attractions.
Looking for a place to stay? If you are leaning towards an Airbnb be sure to grab your coupon here!
Ride The Tram
You're probably thinking what in the world. If you are visiting Gatlinburg, chances are you are going to Ober Gatlinburg too. You can easily make the drive, it's just a couple of miles from the center, but take the Tram. It's such an experience.
Thankfully we have a funny tour guide, basically, they talk about the number of visitors a year, how the tram was constructed, things like that. The views are impeccable! If you are scared of heights, I definitely don't recommend it.
When the tram goes over the different pulleys, there is a bit of movement (think of turbulence like if you were on a plane), just a heads up! They tell you about this ahead of time just so you don't panic.
Also, one thing to note is that if you take the tram over, it comes back at a certain time, so if you decide you want to stay longer, you would need to arrange for transportation back to town.
More info about Ober and the Tram can be found here.
Below is the current operating schedule as of 11/2020 along with current ticket pricing for the Ober Gatlinburg Tramway.
Ober Gatlinburg
So Ober is like a little town on its own inside of Gatlinburg, or at least that's what it felt like to us! It's open year around but in the fall in winter you can expect to see lots of people! It's an attraction in itself but many travel here just to ski. They also have ski rental stuff if you decide you want to try it as a beginner.
Inside there are a few places to shop. If you're a shopper don't get your hopes up too high though, these are a little more like tourist spots than boutique shopping. The food is mediocre, but they have a nice lodge with a view so that's always nice to see.
Snow Tubing
Go snow tubing in while in Ober Gatlinburg! It's so much fun and family friendly, plus no experience needed! The tubes are included in your admission fee as well. Plus it's right next to the slopes!
Current Rates for Snow Tubing are listed below!
They actually offer summer tubing too! We haven't been during the summer but I am sure that is fun too!
Ice Skating
Ober also has an indoor ice skating rink, so make time for that! It's best to get there early, most of the time people are taking the tram over so it's pretty popular midday.
The inside space of Ober is set up similar to a mall. The ice skating rink pictured below is in the middle with the food and shops around the outside. Then on the back is the exit to the slopes and tubing.
Take the Chairlift
So while we were in Gatlinburg we actually didn't take the chairlift, it looks fun, but it's been there FOREVER, but had updates in 2017. With some fear of heights, we opted for the tram instead! Not that the height situation was any better, but it is newer.
Learn about the hours and pricing for the Chairlift!
Ripley's Aquarium
If you have children they will be mesmerized by the neon lights at night time and will bug you to death until they go. Prepare to pay the price, it's pretty expensive when it comes to taking the whole family! And if you have been to Ripley's before, this is the same thing so you aren't missing out if you don't go. But it's really pretty to look at nighttime downtown.
Pricing for Gatlinburg's Ripley's Attraction varies as they offer combo packages and stand-alone tickets. More info on pricing can be found here.
Gatlinburg Skylift Park
The Skylift Park contains the new bridge, the Skylift, and the Skytrail! There's also a "rest area" which deserves more credit than that! Enjoy panoramic views and some snack bar food while taking in all of the scenery. This indoor area is a must see!
Pricing for the SkyLife Park (All Inclusive!)
Gatlinburg SkyBridge
If you love breathtaking Panoramic views, take a walk on the new Skybridge! It's the longest pedestrian suspension bridge in North America! Also, if you plan on visiting Ripley's, check out their bundle discount tickets!
Space Needle
Looking for a million-dollar view? You definitely need to take a ride up in the Space Needle! It's breathtaking! Not to mention it also has one of the largest arcades and an Escape Room you can take a stab at! Another budget-friendly and family-friendly attraction in Gatlinburg.
Current 2020 Pricing for The Space Needle
Kids under 3 are FREE
Adults $12.95
Children (4-11) $7.95
Hollywood Star Cars Museum
Ready to get up close and personal with the Batmobile and General Lee? This museum is perfect for car enthusiasts and those who want to see some of the famous cars in history used in movies and on tv shows! This attraction is budget and family friendly with tickets being under 20 bucks a piece.
Visit Downtown
I hope you like people watching, because this is a good area for it! The downtown area of Gatlinburg is quaint the hotspot for tourists! They have several mainstream restaurants and stores, but most are local and are worth visiting. You will pay about $10 no matter where you park.
Ole Smoky Mountain Moonshine
You have to go taste some moonshine! I mean have you really been to Gatlinburg TN if you don't experience this?? There is a small fee for tasting and there's ton of shine for sale! It's definitely an experience and if you like drinking, you should do it at least once. Their gift store stuff is pretty good too.
Depending on the day, they typically have a bluegrass band playing outside.
Tours of the downtown distillery are free and the tasting is only $5!
Sugarland Cellars
If you enjoy wine or just want to experience a wine tasting Sugarland has the BEST wine in town. The people there are really nice and the atmosphere is great too!
Tastings are FREE!
Mini Golf (Putt-Putt)
These are the most fun when it comes to any mini-golf course in Gatlinburg or anywhere else for that matter! The Davy Crockett course or the Hillbilly Mountain Golf both are high on the list so expect there to be a line. In the Hillbilly Course, you actually take a ride up the mountain to get started!
Eat at the Peddler
This little family owned restaurant is in downtown Gatlinburg and has the best steaks you have ever eaten! Get there early because people are always lined up to eat here!
Eat at the Pancake Pantry
They have THE BEST breakfast food, including pancakes obviously! Plan to wait in line when you go because it's always packed but is totally worth it!
Shop the Village
Right in the middle of downtown, there's an area they call the village filled with unique shops and the architecture reminds you of old castles! Even if you don't plan to buy anything, this area is very cute and worth the photo op!
Visit Pigeon Forge
This isn't in Gatlinburg, but it's only a couple of miles from the center, and hometown of Dolly Parton, yeehaw! There's definitely more to do, more attractions, restaurants, and shopping. So if you find yourself bored in Gatlinburg, this may be a good change of pace for you.
See all of the things to do, attractions, and dining options for Pigeon Forge here.
Ride the Parkway
The Blue Ridge Parkway is on many bucket lists and the views are incredible. It has multiple overlooks and makes the perfect ride around mid-October to see all of the leaves changing. There's no charge to ride the parkway, but during the winter there may be parts closed due to snow and higher altitudes.
Raft the Nantahala
Ready to try rafting and ziplining? The Nantahala Outdoor Center is about an hour and a half outside of Gatlinburg near the Appalachian Trail filled with many outdoor activities. People travel all over the country to come here every year. Since it's so close to Gatlinburg, I highly recommend you give it a shot! Make reservations ahead of time and be sure to check the website when it comes to guidelines with children.
The NOC has a ton of info about their attractions and places to stay plus other activities!
Cade's Cove
Several miles outside of Gatlinburg is Cade's Cove. My favorite part here is seeing the wildlife! You can drive the loop or ride your bicycle through. There are multiple historic sites along with onsite camping if you choose. This loop takes between 2 and 4 hours to get through, depending how many times you stop, if you walk to trails, or how many people are visiting that day. The last time we went it rained, so we were glad to have drove our car instead of biking. We also got to see some deer and wild turkeys!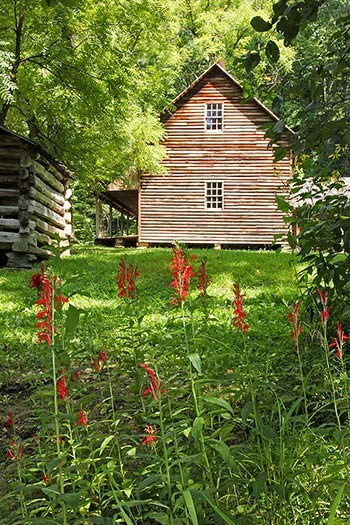 While there is so much more to do in Gatlinburg, TN these are by far my favorite! You can also check out The Gatlinburg Tourism site, along with Pigeon Forge for more ideas!